Découvrez et parcourez l'ensemble de notre catalogue d'agences.
Postez un nouveau projet dès maintenant et trouvez les agences qui correspondent à vos besoins.
Laissez nos conseillers vous aider à choisir l'agence la plus adaptée à votre projet.
Parcourir la liste des fournisseurs
Recherchez parmi les 38 000 prestataires de services talentueux de notre base et collaborez avec les meilleurs pour vos besoins spécifiques.
Laissez les agences venir à vous
Décrivez vos besoins dans un court briefing contenant vos besoins et contraintes. Partagez-le aux agences que nous vous suggérons et attendez leur réponse.
Un processus simple, rapide et agile
Informations complètes et actualisées sur le marché
Assistance personnelle
En savoir plus
Nos conseillers vous guident vers la bonne agence pour votre projet
Laissez nos conseillers vous aider à sélectionner les agences les plus adaptées et lancer votre projet avec le meilleur partenaire.
En savoir plus
---
If we were you
Malines, Belgique
Strategic and creative services in B2B
If we were you is a creative and strategic B2B advertising agency that started out beginning of 2012. We work for local and international companies such as Securitas, Securex and Mastercard, but also smaller businesses.We are a full service agency delivering both online and offline services. We've got a zillion competitors in all sorts of price ranges. They're all "creative", "young and dynamic" and what you really pay for is not always clear. So how on earth does one choose an agency? The challenge to stand out arises. What would make you listen to what we have to say? If it is about people: we have the best. If it is about experience: we have loads of it. If it is about a state-of-the-art structure in which these qualities can thrive: we built one. Is that enough to make you listen? It shouldn't be. Successful communication also demands feeling, dedication, passion and added value in every contact, every job. And above all the guts to stick to what you strongly believe in. So, what do we believe in? First of all, we believe in ourselves. Every member of our team has his or her own successful (hi)story in marketing and communication. Secondly, we believe in our job: we all witnessed marketing miracles from close by. Finally, we believe that whatever we do, whether it is marketing, advice or creative work, there is always one final question, one ultimate test: Would we really, honestly do this if we were you? So that is the name we decided to give to our agency: If we were you. If we were you will advise you like friends would do: strongly involved but straightforward nevertheless. We will make you think. And let you decide. That's the deal. If we were you, we'd call us. And give us a challenge: +32 (0)15 284 900  
---
Services
14 services offerts par If we were you
Nom du service
---
Avis clients connexes
---
À partir de
---
---
---
Équipe
6 membres dans l'équipe de If we were you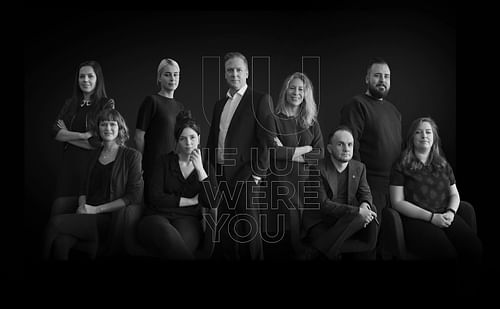 Histoire
Our team is experienced, approachable and creative. We say what we think and do what we say. It is our job to create a solution or answer for your problem or question and you always get our full attention. Our planning allows quick reactions and as we are both well equipped and experienced we are able to work swift.
---
Récompenses
If we were you a été récompensé 0 fois
---
Avis clients
2 Avis clients pour If we were you
Stijn Schenkels
Bedrijfsleider chez Hanolux
Service
Publicité en ligne
IWWY hielp met een verfrissing van onze onderneming. Hierbij kwam onder meer een nieuw logo, huisstijl en advertentiebeleid aan de pas. Kenmerkend is hun creatieve en flexibele aanpak waarbij ze niet verlegen zijn om hun eigen stempel te drukken op hun campagnes of 'out of the box' te denken. Momenteel verzorgen zij onder andere de copywriting, het ontwerp van advertenties en het verder uitdiepen van de gezette visie.
---
Reinhardt Haverans
Content & Growth Officer chez Brainbridge BVBA
Service
Création de site internet
If we were you is our main design / communication agency we're working with for several years now. They designed our new logo, website, ... and we couldn't be more happy about this. As we are an IT Staffing agency, it is not simple to create things for our business, but If We Were You really understands the field we're working in, which makes it easy to collaborate. If you need some creativity for your business, If We Were You is the agency you need!
---
Vous avez travaillé avec If we were you?
Partagez votre expérience avec nous.
---
Contact
Coordonnées de If we were you
Détails
---
---
Siège social

Hendrik Speecqvest 62, 2800 Mechelen, Belgium
---